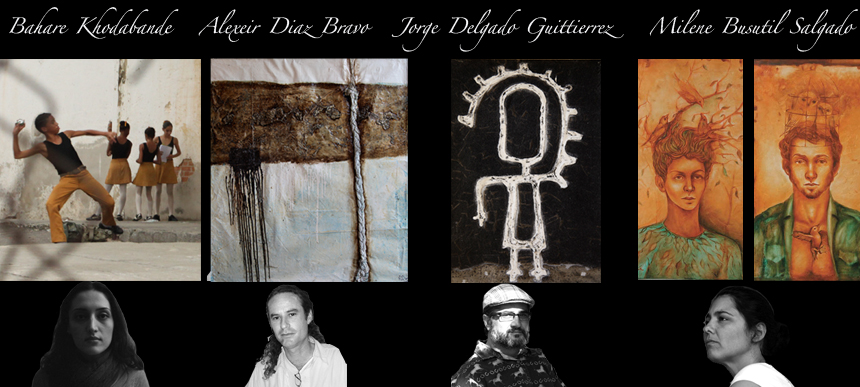 Queen Gallery presents the contemporary work of Cuban Masters from Havana and rural towns across the island nation of Cuba in Four Weeks of Cuban Art…
July 05- August 01, 2012
Tuesday – Wednesday – Friday 11:30 am–6:30 pm
Thursday 1:30-8:30 pm
Saturday 3:30-6:30 pm
Sunday & Monday by appointment only
Please call 416 361 6045
Organized and presented by Queen Gallery from July 5 to August 1, 2012, Four Weeks of Cuban Art is an exciting exhibition showcasing the art of a Caribbean island, which Christopher Columbus described as "the most beautiful land eyes have ever seen."  We hope that our audience will agree with us when we say that it holds some of the most beautiful artwork as well.  Thanks to the contributions of Bahare Khodabande, Jorge Delgado Gutierrez, Milene Busutil Salgado, and Alexeir Diaz Bravo, this exhibition draws a broad panorama of contemporary Cuban visual art. Each week, the gallery will present a new contemporary Cuban artist to the public.
Week one:
July 05- July 11, 2012

Opening reception:
Thursday July 5, 2011, 6:30-9:00 pm
Bahare Khodabande
"Cuba is considered to be a poverty-stricken country in Canada and the United States.  Access to water and electricity is limited and with aging cars 30 years or older, downtown air is hard to breathe.  'Felicidades Madre' is an overview of children's daily lives in Cuba and how it differs from that of children in developed societies."  -Bahare Khodabande
Week Two:
July 12-July 18,2012

Opening reception:
Thursday July 12, 2011, 6:30-9:00 pm
Through his friendship with an important Cuban ethnologist, the late Antonio Nunez Jimenez, Jorge Delgado Gutierrez formed a close relationship with Prehistoric Art.  Passionate about the books he discovered, Jorge Delgado built a strong body of work sure to stun his Canadian audience.
Week Three:
July 19- July 25, 2012

Opening reception:
Thursday July 19, 2011, 6:30-9:00 pm
Milene Busutil Salgado was born in Havana in 1971 and graduated with a Fine Arts degree.  She worked as a ceramics teacher at the National School for the Blind and since 1996 has worked as an independent artist and a member of the Asociación Hermanos Saiz.
Week Four:
July 26- August 01, 2012

Opening reception:
Thursday July 26, 2011, 6:30-9:00 pm
Alexeir Diaz Bravo graduated from the fine arts academy Academia de Bellas Artes San Alejandro, Ciudad de La Habana, and has since been working as an independent artist and teacher.  He describes having experienced different painting trends and techniques, but that ultimately his artistic subject matter is an attempt to channel his experiences in Cuba.
Located at the crossroads of Old Europe and the New World, Cuba is a rich cultural terrain: its music and literature are well known outside of the country, but the same cannot be said of its visual arts. At times a vehicle for collective political action and at times a personal expression vis-à-vis history, Cuban art deals with matters pertaining to a sense of place and the role of the artist in society, issues that outstanding contemporary artists continue to explore in relevant ways.


There will be an opening reception for each artist (July 5th, 12th, 19th, and 26th) that will run from 6:30-9:00pm. We look forward to seeing you at one of Queen Gallery's most exciting events yet!