Queen Gallery presents: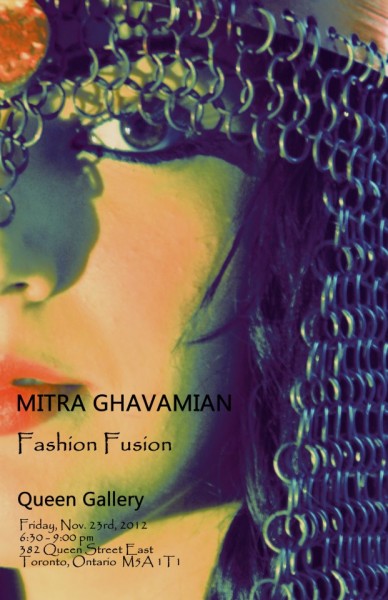 Please join us for the reception on November 23, 2012 – Time: 6:30-9:00
"Beautiful, mystical looks evoking ancient nomads and fierce warrior women, colourful and also at times feminine the MITRA show at |FAT| 2012 was a tour de force. MITRA's runway was one of elegance and mystique."
Glowing Doll – Toronto Fashion blogAt this event Queen Gallery will showcase Mitra Ghavamian's long term achievements as a film costume designer and a fashion designer. Mitra Ghavamian has designed costumes for numerous theatre, TV, and film productions in Iran (1985-1994). She has also worked in Canadian theatrical productions such as The Lion King in Toronto, and American film productions such as X-Men, Resident Evil, Bulletproof Monk, and Wrong Turn. Recently, she launched a fashion line simply named MITRA. In the last four years Mitra has showcased her collections at Fashion Art Toronto, Toronto Arts and Fashion Week, and The Clothing show.