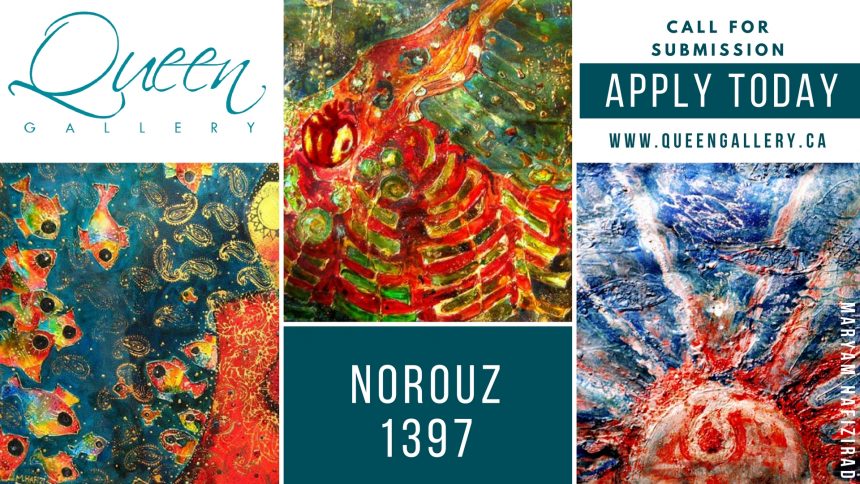 SUBMISSION DEADLINE: February 26

DROP OFF: Friday, March 9, 11:30 am to 3:30 pm

PICK UP: Wednesday, March 28, from 5pm to 7pm

EXHIBITION: March 14 to March 27

OPENING RECEPTION: Wednesday, March 14, from 7pm to 9pm

CLOSING RECEPTION: Saturday, March 24, from 4pm to 6pm

ADDITIONAL INFO: Width Maximum 24''

SUBMISSION FEE: Free

*PARTICIPATION FEE:

$60.00 (for first submission)$5.00 (for each additional work)

*Participation Fees are only paid if your work is selected to be part of the exhibition.

Outlined dates might change, artists will be informed of any changes upon invitation to participate.
Queen Gallery is seeking submissions for our upcoming group show, NOROUZ 1397 to celebrate the first day of spring and the beginning of the year in the Persian calendar.
Norouz, meaning "New Day" in Persian, is the traditional celebration of the New Year in many parts of the world, including Iran, Afghanistan, Tajikistan, Turkey, parts of Central Asia, South Asia, Northwestern China, the Crimea and some ethnic groups in Albania, Bosnia, Kosovo and the Republic of Macedonia.
SUBMISSION DEADLINE: February 26
Submit your CV,  a filled Application Form saved as a Word document or Office, and up to 6 high-resolution JPG images of artwork (name your images title_firstname_lastname) to info@queengallery.ca. Please complete subject line as follows: Norouz Call for Submission 2018_Artist's Full Name.
All artwork must be up to 24'' wide (including frame if work is framed) and artists can submit up to 6 pieces.
Terms and Conditions: Download the contract here!
• NOROUZ is a curated art exhibition.
• The Artist hereby warrants that the Artist created and possesses unencumbered title to the works of art listed and has the right to loan these works for purposes of exhibition and sale.
• All artwork must have the name, date, title, price, and medium clearly printed on the back and be ready for hanging including a wire on the back.
• Each artwork exhibited will be offered for sale.
• Artists must drop off their artwork on the specified date (Friday, March 9, 11:30am to 3:30pm), along with a signed copy of this contract and the participation fee $60 cash for the first submitted artwork, plus $5 each for any additional work.
• Queen Gallery will take 30% commission from any work sold at the exhibition.
• Artists must pick up their work (or arrange to have their work picked up) by the pick-up date Wednesday, March 28, from 5pm to 7pm* or the art becomes the property of Queen Gallery.  Please inform the gallery if someone else is going to be picking up your work.
• The Artist is responsible for packaging, shipping, delivering, removing, pick-up and insurance of works during transport to and from Queen Gallery.
• The Artist allows the artworks in the exhibition to be photographed for purposes of reports, documentation, marketing and publicity by Queen Gallery; allow the use of low-quality images of artworks by Queen Gallery for promotional purposes related to the exhibition.
*if the exhibition is extended artists will be asked to keep their work in the exhibit for an extra week.