LOVE TRANSFORMS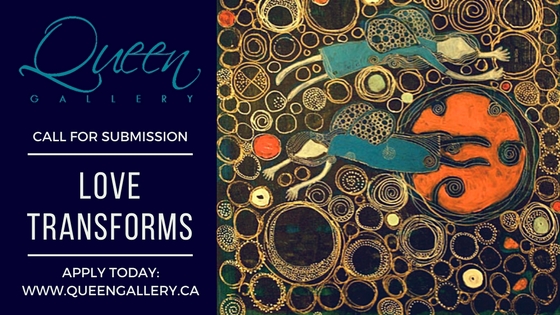 SUBMISSION DEADLINE: January 22

SUBMISSION FEE: Free

PARTICIPATION FEE:

$60.00 (for first submission) $5.00 (for each additional work, maximum 3 works per artist)

Participation Fees are only paid if your work is selected to be part of the exhibition.

Important Dates:

DROP OFF: Friday, February 2, 11am to 7pm and Saturday, February 3, 3pm to 7pm

EXHIBITION: February 7 to February 17

OPENING RECEPTION: Wednesday, February 7, from 7pm to 9pm

CLOSING RECEPTION: Saturday, February 17, from 4pm to 6pm

PICK OFF: Saturday, February 17, from 4pm to 6pm to 7pm

Outlined dates might change, artists will be informed of any changes upon invitation to participate.
Queen Gallery is seeking submissions for our upcoming exhibition Love Transforms to celebrate Valentine's day. Submission deadline January 22.
Love is the most sacred of all feelings. It might also be one of the most complex ones, encompassing a  variety of emotional and mental states. What is your take on love? How does it transform us?
Submission: 
Submit your filled Application Form as a Word Document, CV, and up to 5 high resolution JPG images* of artworks (name your images title_firstname_lastname) to info@queengallery.ca. Please, complete subject line as follows: Love Transforms Call for Submission 2018_Artists Full Name.
All artwork must be up to 24'' Width (including frame, if artwork is framed) and artists can submit up to 5 artworks.
*Images of participating artworks may be used for marketing and promotional purposes by Queen Gallery.
Terms and Conditions:
Love Transforms is a juried art exhibition.
The Artist must warrant that the Artist created and possesses unencumbered title to the works of art listed and has the right to loan these works for purposes of exhibition and sale.
Artists must drop off their artwork on the specified date, along with a signed copy of a contract and $60 cash for the first submitted artwork, plus $5 each for any additional work.
All artwork must be completed, ready to hang (including wire on the back of the artwork) and in good condition.
All artwork must be up to 24'' Width (including frame, if work is framed)
All artwork must have title, artist name, size, medium, year and sale price. clearly printed on the back.
Each artwork exhibited will be offered for sale.
Queen Gallery will take a 30% commission from all work sold at the exhibition.
Artists must pick up their work (or arrange to have their work picked up) by the pick-up date or the art becomes the property of Queen Gallery.  Please inform the gallery if someone else is going to be picking up your work.
10.The Artist is responsible for packaging, shipping, delivering, removing, pick-up and insurance of work during transport to and from Queen Gallery.
The Artist allows the artworks in the exhibition to be photographed for purposes of reports, documentation, marketing and publicity by Queen Gallery; allow the use of low quality images of artworks by Queen Gallery for promotional purposes related to the exhibition.