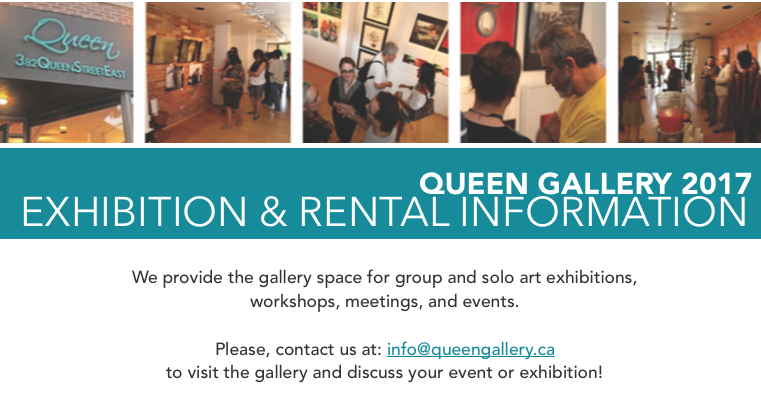 We are currently accepting applications for our 2017 programming schedule and have rental periods available. Please inquire about availability by e-mailing: info@queengallery.ca.
Please note that as a juried gallery rentals are subject to our selection process.

You will find our floor plan and rental fees here: RENTAL
Queen Gallery presents the work of contemporary artists from Toronto and around the world. Our exhibitions are driven by a comparative exploration of art and culture in an interdisciplinary setting. Housed in a refurbished brownstone, this distinctive space is a forum where the boundaries of media are greeted, embraced and even challenged. We look to showcase a variety of talent of diverse heritage, aiming to provide the most original, contemporary voices to our collection.
Our gallery is located at 382 Queen Street East, in vibrant Corktown one of Toronto's oldest neighbourhood's. Our location attracts a wide range of artists and visitors to the gallery year round. Our space provides the perfect ambience for intimate and elegant affairs, we offer rentals of the gallery space for individual or group exhibitions, as well as workshops and other events.
Queen Gallery also offers event rentals for one off events and programming in the evening depending on availability. We welcome events at the gallery that compliment our regular exhibitions and encourage public engagement. Special event rentals do not include exhibition space. Please, email us to inquire our fees for special events.
We would love to show you the gallery, come visit us!