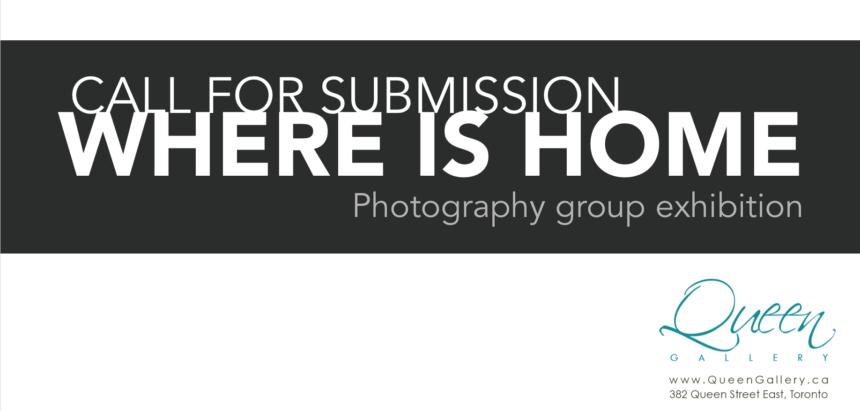 Click Here to print the submission form: WHEREISHOME

Apply below through our submission form.

Exhibition: May 30th – June 10th, 2017.
Tuesday to Saturday 3:30pm to 7:30pm.

Reception: Wednesday, May 24th, from 7pm to 9pm

Submission Deadlines:
Online deadline: May 9th, 2017
Drop off: May 24th and 25th, from 3:30pm to 7pm

Artists are responsible for delivering  and collecting their works from the gallery.

Participation Fee:
$180.00 (for first submission)
$10.00 (for each additional work)

Acceptable Media:
Photography
Queen Gallery is seeking  submissions for our upcoming photography group show WHERE IS HOME.
How do you define home? Is home where you are, where you left, or where you are going to? Is home a place, a feeling, or an action?
We welcome all artists to submit their photographic interpretations of HOME.
"I want to go home,
but home is the mouth of a shark
home is the barrel of the gun
and no one would leave home
unless home chased you to the shore"
****Rental or Participation Fees are only paid if your work is selected to be part of the show.
There will be two stages to this submission process. If your work is selected, we ask that you bring your artwork to Queen Gallery (382 Queen Street East) on Wednesday, May 17th and Thursday, May 18th, from 3:30pm to 7pm.

Terms and Conditions:
• WHERE IS HOME is a curated art exhibition.
• The Artist hereby warrants that the Artist created and possesses unencumbered title to the works of art listed and has the right to loan these works for purposes of exhibition and sale.
• All artwork must have the name, date, title, and medium clearly printed on the back and be ready for hanging including a wire on the back.
• Each artwork exhibited will be offered for sale.
• Artists must drop off their artwork on the specified date, along with a signed copy of the contract and the participation fee $180 cash for the first submitted artwork, plus $10 each for any additional work (maximum three artworks)
• Queen Gallery will take NO commission from any work sold at the exhibition.
• Artists must pick up their work (or arrange to have their work picked up) by the pick-up date Saturday, June 10th between 4pm and 7pm* or the art becomes the property of Queen Gallery.  Please inform the gallery if someone else is going to be picking up your work.
* if the exhibition is extended artists will be asked to keep their work in exhibit for an extra week.