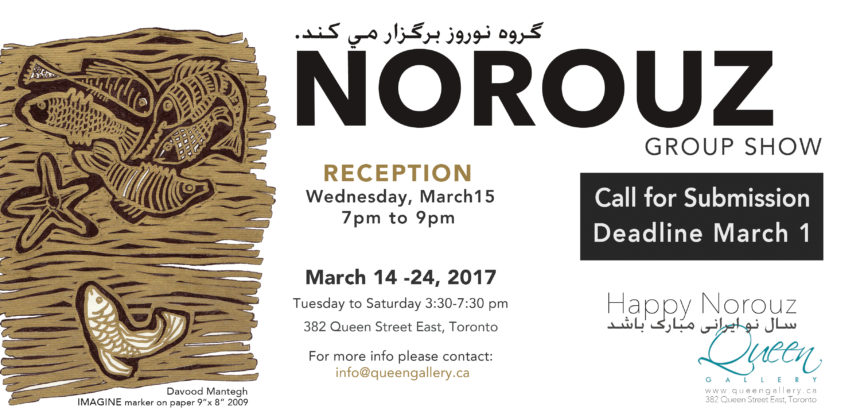 Click Here to print the submission form: Submission form PDF

Exhibition: March 14 – 24, 2017. 
Tuesday to Saturday 3:30pm to 7:30pm.

Reception: Wednesday, March 15. 7pm to 9pm

Submission Deadlines:

Online deadline: March 1st, 2017
Display-ready artwork deadline: March 11th, 2017


Participation Fee:
$60.00 (for first submission)

+ $5.00 (for each additional work)

Acceptable Media:
Drawing & Painting
Print & Graphic Design
Photography & Video
Jewellery
Sculpture

Submitting work for consideration is easy.  Email us samples of your work (5 high res JPG files), along with a short bio and a description of the work you will be presenting, including the title, medium, and size.

Please include the following with your submission:
1 Your Name (and company name if you have one)
2 Contact information (Phone, Cell, Email)
3 Website (if you have one)

Email submissions to: info@queengallery.ca
Queen Gallery is seeking submissions for our upcoming group show, NOROUZ to celebrate the first day of spring and the beginning of the year in the Persian calendar.
Norouz, meaning "New Day" in Persian, is the traditional celebration of the New Year  in many parts of the world, including Iran, Turkey, parts of Central Asia, South Asia, Northwestern China, the Crimea and some ethnic groups in Albania, Bosnia, Kosovo and the Republic of Macedonia.
Queen Gallery is delighted to host our annual group exhibition in celebration of Norouz.
We welcome all the artists to submit high resolution jpegs of their work
for this years Norouz group show. The deadline will be March 1st, 2017 when our  curator will select the best work.  Artist statements along with display-ready artwork will be required by March 11th, 2017 for those pieces selected.
A participation fee will be required of those selected artists in order to help pay for advertising. Participation fee is $60.00 (for first submission) + $5.00 (for each additional work). Artists are responsible for delivering  and collecting their works from the gallery.
We welcome you to take part in sharing your art during this holiday.
****Rental or Participation Fees are only paid if your work is selected to be part of the show.
There will be two stages to this submission process. If your work is selected, we ask that you bring your artwork to the Queen Gallery (382 Queen Street East) on  Friday, March 10th or Saturday, March 11th from 4pm to 7pm.
Terms and Conditions:
• Norouz Group Show is a curated art sale.
• The Artist hereby warrants that the Artist created and possesses unencumbered title to the works of art listed and has the right to loan these works for purposes of exhibition and sale.
• All artwork must have the name, date, title, and medium clearly printed on the back.
• Each artwork exhibited will be offered for sale.
• Artists must drop off their artwork on the specified date, along with a signed copy of this contract and the participation fee $60 cash for the first submitted artwork, plus $5 each for any additional work (maximum three artworks)
• Queen Gallery will take 20% commission from any work sold at the exhibition.
• Artists must pick up their work (or arrange to have their work picked up) by the pick-up date (Saturday, March 25th between 4pm and 7pm) or the art becomes the property of Queen Gallery.  Please inform the gallery if someone else is going to be picking up your work.