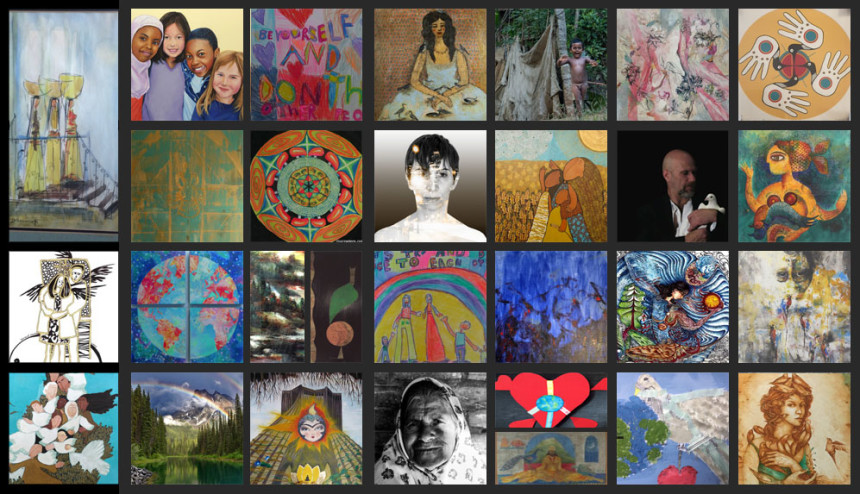 We are proud to present the Preview of "A World at Peace" art exhibition at the Queen Gallery in Toronto.
A World @ Peace is a Multicultural Art Exhibition Showcasing Distinguished Expressions by extraordinary artists.
A Gay son of Holocaust survivors. A Muslim professor of Near-Eastern studies. The First Nations artist and a Founding member of the Indian Group of Seven, Jackson Beardy. Two local six-year-olds who want everyone to "stop being mean to each other." A Persian calligrapher/painter and recent émigré from Iran. These are just some of the artists and photographers whose works will grace the walls of a Unitarian mid-town congregational building during the Jewish High Holy Days next month. But first their art, and those of many others, will be on display at Toronto's Queen Gallery, from September 21 to September 28, 2016. Titled "A World at Peace," the multi-media show is a joint presentation of the gallery and Congregation Shir Libeynu, a liberal, egalitarian and unaffiliated shul (synagogue) community with hundreds of queer, straight, multi-faith and traditional members who espouse diversity and inclusion.
The theme, "A World at Peace", is illustrated by works from Canada, China, Cuba, Ethiopia, India, Iran, and the U.K, among others. In this intensely troubled time, the exhibition organizers believe that multi-cultural, multi-gifted artists can help to bring communities together. Within this concept "A World At Peace" will pay tribute to spiritual, religious and cultural traditions in a juried display of visual arts.
The 30 artists have enthusiastically embraced the idea, adding their personal statements to the exhibited pieces.
The event is curated by Mahrokh Ahankhah who will host a preview of "A World At Peace" at the Queen Gallery, 382 Queen Street East, September 22/28, with an opening reception from 7-9 p.m. on September 21‪.
To book a viewing time, please call 416 841-9008 .
"A World At Peace" will be on public view at the First Unitarian Congregation of Toronto, 175 St. Clair Avenue West from October 5 to 11 and October 12/14 and 17/18. The hiatus is due to the days of worship for the High Holy Days' period. Shir LIbeynu holds its High Holy Days services at First Unitarian, and the two have been community partners for many years.
For viewing times at First Unitarian, please call Serena Shovlin: 416 824-9654 ext. 221
For further information:
Mahrokh Ahankhah 416 841-9008 ‪
Simone Brightstein 416 551-3904 ‪
The complete list of artists:
ADDISON GOLDBERG; ​ANA GRIBONS; AVA FINE; CHAN CHUI-YIN; DANA MANSOURI; DIANE FINE; ELZA FINE; FIROOZEH TANGESTANIAN; HAMED NASSERI; HANIEH KHOSROSHAHI; JACKSON BEARDY; JAMIE FLAGAL; ​​​JOSEPH KOSSONOGI; JULIA HACKER; JUSTIN APPLE; ​​​KHOSRO BERAHMANDI; KIRSTEN GLASBROOK; ​LIORA SALTER; LYNDA GREENBERG; MARYAM HAFIZIRAD; MAYA GOLDBERG; MILENE BUSUTIL; MARILYN LIGHTSTONE; MAYRANNE (MAC) PETERS; NAZNIN SEPANDRAM; OSCAR WOLFMAN; PAUL JAMNICKY; POUNEH SHABANI-JADID; SAYEH IRANKHAH
Tags: 2016