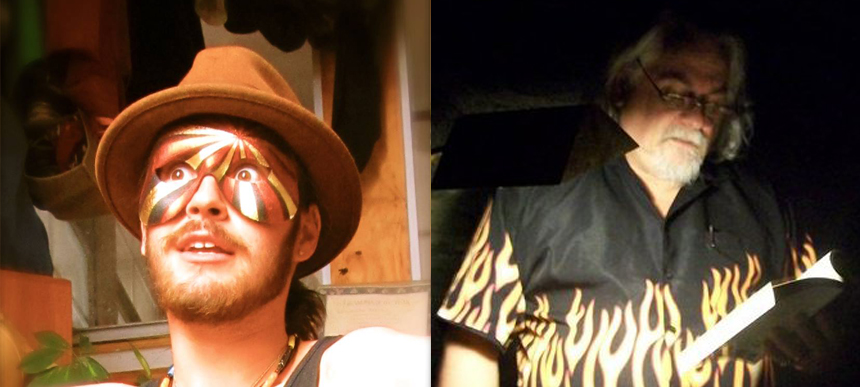 Open Stage night of poetry and music
Feature: Bob MacKenzie &  Jeremy Legault
Host: Darlene Collison

Time: Tuesday, July 15th, 2014
Place: Queen Gallery, 373 Queen Street East, Toronto

Doors open: 6:30 p.m.
Sign-up for the open mic: 6:30 p.m.
Start: 7 p.m.

Donations: PWYC ($5 & up)
Poet and spoken-word performer Bob MacKenzie will be featured artist for "A Night of Poetry & Music @ Queen Gallery" on Tuesday, July 15th, in collaboration with Toronto musician Jeremy Legault. (Scroll down for links to Bob MacKenzie in performance.)
Bob MacKenzie's poetry and prose has appeared in journals, anthologies, and books for almost fifty years. He was born in British Columbia and raised on the western side of Southern Alberta, where the Rocky Mountains were always visible from his home. During the summers, his artist parents would take him and his sisters west and north on camping trips through the mountains of western Canada. These adventures of his childhood and youth continue to inform his writing.
Bob's poetry has appeared in hundreds of publications across North America and as far away as Australia and India, including The Dalhousie Review, University of Windsor Review, Ball State University Forum and many more. He's published sixteen books of poetry and prose-fiction and his work has been featured in numerous anthologies. His poems have been reproduced by visual artists and sculptors and a public art gallery has devoted an entire visual arts exhibition to his poetry. He is possibly the only poet to have versions of his poetry owned by the Canada Council's National Art Bank.
On his own throughout his career and for eighteen years with the performance ensemble Poem de Terre, Bob has performed much of his poetry live with original music and has released seven albums with Poem de Terre.
Bob has received a number of awards for his writing, including "On Edge" winner of the poetry category in the international Sharp Writ Book Awards for 2012 and of a bronze medal in the 2013 international Readers Favorite Book Awards, novels "Ghost Shadow: Unfinished Sins" and "Another Eternity" winners in their respective categories of bronze medals in the 2012 international Readers Favorite Book Awards, and an Ontario Arts Council grant for literature.
Bob MacKenzie in Live Performance
Rain: Bob MacKenzie with Bernie Munich
https://www.youtube.com/watch?v=fO5KrzqF6GE
Edge: Bob MacKenzie with Kasey Ferguson, Eriana Marcus, David Currie
https://www.youtube.com/watch?v=d5eEhYP4mx8
Circle the Wagons: Bob MacKenzie
https://www.youtube.com/watch?v=9VIGcpVszUU
I Would Photograph You: Bob MacKenzie
https://www.youtube.com/watch?v=jSShDzPEI3U
Bob MacKenzie with Poem de Terre
Assume Nothing
https://myspace.com/june1966/music/songs
War & Love
https://myspace.com/longtimepassing/music/songs
"A Night of Poetry & Music @ Queen Gallery" is a monthly open–stage night of music and poetry founded by Mahrokh Ahankhah A in November 2012. The event is free, but the gallery will pass the hat and would be happy to receive your generous donations.
Bring your poetry, music and friends and share your art with us at the wonderful Queen Gallery. Any style of poetry and music in any language is welcome. If you write or perform in a language other than English, you might offer translations or an explanation in English.
Host for these series of poetry nights is Darlene Collison.