Juried Group Art Exhibition
Curator: Oscar Wolfman (RIP) / Mahrokh Ahankhah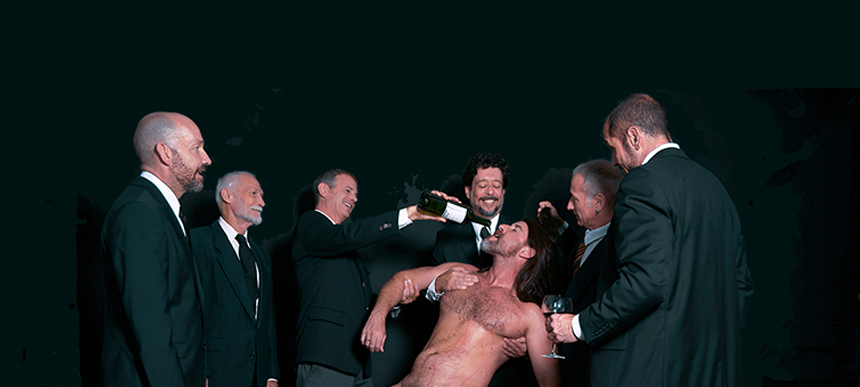 Dec 06- Dec 21, 2012
Tuesday – Wednesday – Friday 11:30 am–6:30 pm
Thursday 1:30-8:30 pm
Saturday 3:30-6:30 pm
Sunday & Monday by appointment only
Please call 416 361 6045

Opening reception:
Thursday Dec 06, 2012, 6:30-9:00 pm

Closing reception:
Friday Dec 21, 2012, 6:30-9:00 pm

Address:
Queen Gallery, 382 Queen Street East, Toronto M5A 1T1

Cost: Free

info@queengallery.ca
In remembrance of Oscar Wolfman, Queen Gallery is hosting an event to follow through with another curatorial project of his. We proudly hosted his first two solo exhibitions and would like to fulfill his wish for another event, as his memory is very much alive with us. He was the curator of our creation show, which we were hoping to repeat every year.
We would like to invite you, to be part of his memorial event along with this juried group exhibition.
We are featuring some of his work as well as artwork that he too would have chosen and admired. The show will take place until 21st of December on the longest night of the year, just as he requested.
This is a tribute to Oscar, an artist that accented our lives and memories with his life and artwork.
Come join us for this three-week exhibit that starts with a group exhibition on Thursday, December 6th, and ends with our second Poetry Gallery event celebrating Yalda, the longest night of the year and winter solstice, on Friday, December 21st.
Opening remarks by Aviva Goldberg, who has been conducting scholarly research on Oscar's artistry.  Dr. Goldberg is a professor at York University and the spiritual leader of Congregation Shir Libeynu, Toronto.
The complete list of exhibiters includes:
Oscar Wolfman (RIP)
Afsaneh Safari; Amin Nasr; Andrew Ogus; Annette Seip; Brian David Johnston; David Townsend; Firoozeh Tangestanian; Ian Alter; Khosro Berahmandi; Mahnaz Piroozfar; Maryam Hafizirad; Meetra Sofia; Melissa Eluik; Reza Ta; Sedigheh Saleki, Steve McCabe; Taraneh Azadi;
Featuring Eden Nameri which is going to tell a story in memory of Oscar. She proposes telling an adapted version of "The Soul of a Menorah," which is taken from Eric Kimmel's collection  Jar of Fools. It is a story about the transformation of a pitchfork into a beautiful menorah (the candelabra used during Chanukah). The story takes place in Chelm, which is a legendary Jewish village full of foolish people. Her version will also include the origin story of Chelm and a few examples of the foolish behaviour found among the village's inhabitants.This story has a lot of humour, which is something Oscar Wolfman appreciated, but also, it is about creating light in a time of darkness (Chanukah is, after all, the festival of lights and takes place around the time of the winter solstice. As well, the people of Chelm create something beautiful out of an object that originally had little value, which seems like a fitting tribute to an amazing artist like Oscar.
On December 21st, we are also celebrating the eve of winter solstice (December 20th), Yaldä night, with a storyteller who is going to take us back in time with creation stories from Iran, and with divination by the dïvän of Häfez (fäl-e Häfez).
Any style of poetry and music in any language is welcome. If you write or perform in a language other than English, you might offer translations or an explanation in English, but you don't have to!
We are extremely excited to announce our second feature, Ariel Balevi, a wizard of a storyteller.
Ariel Balevi is a storyteller whose repertoire derives from the literary and folklore traditions of Iran, Turkey, and Central Asia: Firdowsi's Book of Kings (Shahnameh), Attar's Conference of the Birds (Manteq oTayir), Nizami's Seven Pavilions of Love (Haft Paykar), Rumi's Masnavi as well as the Thousand and One Nights (Hezar o yek Shab). Ariel performs these stories in English, using verse or proverb from the language of origin of the story. Ariel has performed in various venues in Toronto, Washington DC, Montreal and Ottawa, sometimes with Western or traditional Persian musicians. In his performances Ariel strives to present the universality of these narratives, unfamiliar to some audiences, and in doing so bring about mutual respect and understanding among different cultures and traditions.
Tags: 2012