Warning
: A non-numeric value encountered in
/home1/mahrokh/public_html/wp-content/plugins/lightbox-gallery/lightbox-gallery.php
on line
570
"HELP AZARBAYJAN"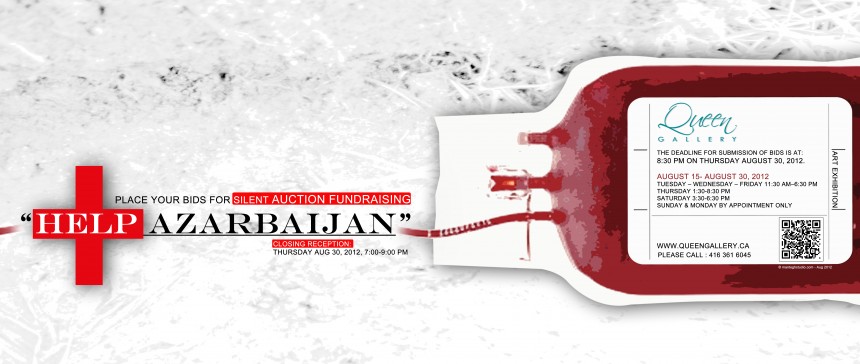 The deadline for submission of bids is:
at 7:00 pm on August 30, 2012.

August 15- August 30, 2012
Tuesday – Wednesday – Friday 11:30 am–6:30 pm
Thursday 1:30-8:30 pm
Saturday 3:30-6:30 pm
Sunday & Monday by appointment only
Please call 416 361 6045

Closing reception:
Thursday Aug 30, 2012, 6:30-8:30 pm

www.queengallery.ca
info@queengallery.ca
Subscribe
Facebook
Unsubscribe
Hundreds dead, thousands injured, a dozen thousand displaced; a massive and disastrous earthquake occurred in province of East Azarbayjan, northwest of Iran, which devastated villages, left people homeless and stuck under the ruins of their homes. With the intention of helping the victims Queen Gallery Team are holding an online artwork auction. We invite you to put up your artworks for this auction. Artworks will be available on www.queengallery.ca and stored in Queen Gallery from Wednesday August 15, 2012.
Please place your bids in a comment for the artwork you want to buy in Facebook event , more than comments in this Facebook event you can also bid on the items by emailing to info@queengallery.ca or by coming to the address: 382 Queen Street East, Toronto, M5A1T1.
The entire revenue will be dedicated to help survivors of the earthquake.
MAHROKH AHANKHAH Director.
The complete list of donors (Artists):
Afsaneh Safari
; Atefeh Farzindar; Bianca Cubric; Davood Mantegh; Hengameh Gorji; Hilda Faraji; Ian Busher; Jamak Hadian;
Kamelia Pezeshki
; 
Kamyl Bullaudy Rodríguez
;
Khosro Berahmandi
; Lida Alirezaii; 
Lida Shanehchiyan
; Lisa Cripps; Mahnaz Piroozfar; Marjan Mazaheri; 
Maryam Hafizirad
; Meetra Sofia; Mehdi Moazzami; Mehdi Pourian; Parham Didehvar; Parmida B; Sana Mojdeh; Shirin Aghdaie; Shirin Shahbazi; Sima Dini; Solmaz Khorramrooz; Steve McCabe; 
Titka Seddighi
;