A Solo Exhibition By Sue Russell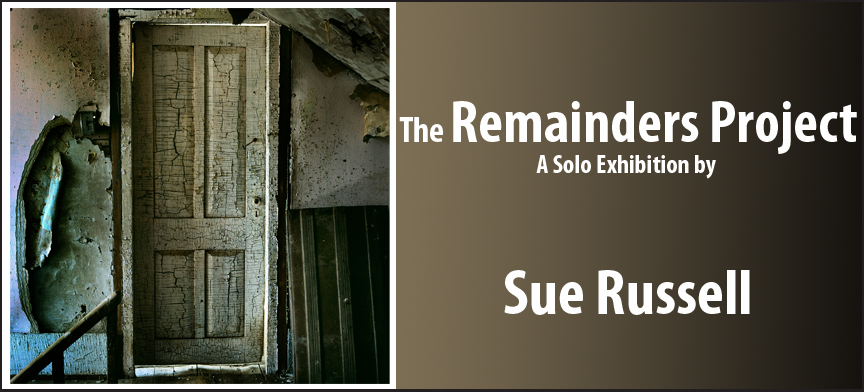 January 13- January 25, 2011
Tuesday – Wednesday – Friday 11:30 am–6:30 pm
Thursday 1:30-8:30 pm
Saturday 11:30-4:30 pm
Sunday & Monday by appointment only Please call 416 361 6045

Opening reception:
Saturday January 15, 2011, 2:00-5:00 pm
This social documentary project all started with the disappearances – at the time I lived north of Pickering on the infamous Airport Lands. I was driving home one day and suddenly had to stop and ask myself – "Am I on the right road? Where is the house at the T junction?" Sometime that day, it had vanished. As it turned out, this was just the beginning, as buildings of all kinds fell to the bulldozers.
Consequently, I began documenting threatened places in earnest. As I drove about finding and photographing places and landscapes, I asked myself "What was it like to make a life here? What happened between then and now?" Perhaps the answers were inside – the interior spaces where people once lived, worked and perhaps even died.
I can't help exploring and I have discovered some amazing places in the most unexpected locations. It is fascinating what is left (or not left) behind and what clues there are to events that emptied these places. Gaining access takes a lot of research but along the way I have heard some great stories – talking to neighbours, real estate agents, local business people and family members.
I explore these crumbling places with care and respect – my intrusion is temporary, my creed "do not disturb." Witnessing the remainders of lives is unsettling and irresistible at the same time – that edginess is an important element to these photographs. I have encountered strong atmospheres that I strive to convey in my images. I remember an overwhelming sense of sadness in one old farmhouse and had to leave. Later I found out the old fellow living there had been murdered for the "money in the mattress."
There's that other edginess too – the precarious surroundings. I enter these spaces alone to really see and feel and do my best work. I have walked on heaved floors, crept up rickety stairs, and encountered all kinds of dirt, grime, critter remains and mysterious goo. But that's all part of it – the quest to capture inspiration and beauty amidst the remainders.
Tags: 2011