Touka
Lampoons our Wicked World

September 23- October 5, 2010
Tuesday – Wednesday 11:30 am–6:30 pm
Thursday 1:30-8:30 pm
Friday 11:30 am–6:30 pm
Saturday 3:30-6:30 pm
Sunday & Monday by appointment only Please call 416 361 6045

Opening reception:
Thursday September 23, 2010, 6:00-9:00 pm
Touka Neyestani; cartoonist. Born in 1960, Shahrood – Iran. Married, living in Toronto.
Graduated from the Science and Industry University in Architecture, 1988. Started collaboration with the press in 1980 workingwith "Ketab-e-Jomeh" weekly edited by "Ahmad Shamloo" .
Collaboration with more than forty monthly, weekly, and daily papers ever since.

By Valérie C. Kaelin, MFA
Ryerson University School of Image Arts
September 5, 2010
By casting himself as the Everyman of his socio-political satire, Touka's at once scathing yet compassionate drawings can focus on the social climate of his native Iran without implicating other individuals. Like the martyred Christ featured in many of his visual scenarios, he dies for the sins he has only witnessed and mourned. His draughtsmanship is on par with that of the Renaissance masters. The subtext of his cartoons is deeply layered, sometimes simply witty: As a stand-in for Adam expulsed from Paradise, he carries the two red fields of the Canadian flag like luggage, while what is left of the dematerializing white one between them is the red maple that serves as the iconic genital fig leaf. Others are Orwellian images of persecution all the more terrifying in their psychological dimension for being so crisply informative. The icon of menace featured in these is a fusion of a medieval Persian warrior with that of Darth Vader. There are more, elaborating on Farsi figures of speech and popular sayings for which these "sans paroles" would require footnoting for an anglophone or francophone audience, but whose enigmas are nonetheless intensely engaging.
Touka's work should bring an increasingly diverse audience to Queen Gallery. Historians who appreciate Da Vinci's Grotesques, Goya, Hogarth, Daumier, the WWI lithographs of Otto Dix, Central European graphic art or Steadman's work during the Nixon years will find a new member of that pantheon. Canadians dissatisfied with sound bites of Middle Eastern current events have an opportunity to appreciate an authentic and complex view from other than the monitors of officialdom. For readers of the Hispanic cuento of resistance, they will find in Touka, what might be illustrations for the short-short story authors Luisa Valenzuela, José Leandro Urbina, and more lyrically, Ana María Matute. And for those in love with the sensuousness of ink on paper, aquarelles and accomplished life drawing, the aesthetic experience, without the interference of their digital representation, will be well worth the pilgrimage.
Peter Birkemoe, owner of The Beguiling, told Queen (Conversation, 03 Sept. 2010) that with the decline of the newspaper industry, the single panel cartoon enjoys less opportunity in North America for publication. Their creators struggle to develop patronage, especially that of prestigious news magazines. Brad Mackay mentions "the increased popularity of bookstore-friendly graphic novels, sales of which have recently surpassed traditional comics." ("Hero deficit: Comic books in decline." The Toronto Star Sun Mar 18 2007. Electronic.) One then speculates about the future of the talented Touka Neyestani in Canada. Will these economic trends inspire him to produce, in Toronto, as Marjane Satrapi did in Paris, a graphic novel in answer to the Persepolis series? Or, with his more modulated illustration style directed to mature audiences, something that might bring to mind Joe Sacco's Palestine?
For those not in the position to acquire original panels as is now gaining currency among collectors through galleries, those waters will be tested by the production of pre-sold, bound books of Touka's single panel exhibition. Toronto has the opportunity here to create a community in which the material success of talent is assured. The September 23
rd
opening is certain to be remembered as a cultural event that re-launches an important career.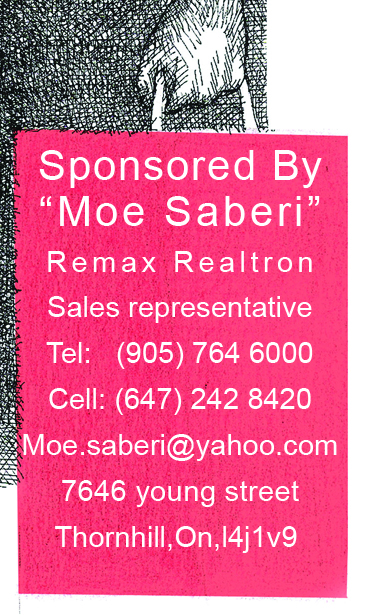 Tags: 2010