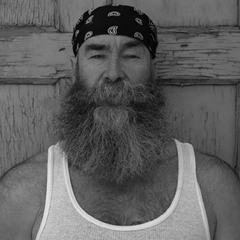 To photographer Oscar Wolfman, the male body in middle age is as erotic – and far more textured, more storied – than the male body in its alleged prime.
Inspired by stories and practices from the Jewish Torah, Wolfman's Midrash recontextualizes ancient visions of devotion to suit his own reality. The photographs are subsequently erotic and spiritual; classically gay on the immediate level, and deeply orthodox on the liturgical. In one image, a tallit is worn by a dancing, nude man, an aging go-go guy in dervish whirl. In another, the tale of Joseph's time among the Midianites is reworked as a typical night at an S & M bar. A tefillin is reimagined as a glossy red ribbon.
Wolfman's theatrical "queerings" come out of, and further enhance, the long tradition of Canadian queer appropriation – a tradition that includes works by General Idea, Shawna Dempsey and Lorri Millan, Ho Tam, and countless others.
The only thing I found unaccountable in Midrash is that it is, I'm told, Wolfman's first solo exhibition. Where has this work been all my (mid)life?