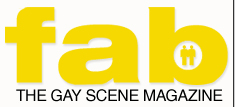 Matt Thomas talks to photographer Oscar Wolfman about his divine inspirations
"A large part of my work addresses the appropriation of Jewish biblical narratives in 2,000 years of Christian art," says Oscar Wolfman. "It is too Jewish for most queers, and too queer for most Jews. It is serious in its commentaries and symbolism, but it is done with intentional artifice and camp."


Wolfman's work, while exploring biblical themes, also examines the visual pleasures of the nude male body. "Male nudes were always represented and, if you look at the works of people like Michelangelo, Caravaggio or Il Sodoma, they depicted religious figures as homoerotic," notes Wolfman. "So why can't a Jewish artist glorify the male body in religious art? Judaism has always had a tantric component, even if it hasn't been widely discussed."

Wolfman's newest photo exhibit is called Midrash, which is "one of the four levels of Jewish textual analysis used to understand the Bible. It fills in the gaps of narratives, explains contradictions, compares and contrasts with other biblical narratives to find the deeper, hidden meanings." However, with Wolfman's work in Midrash, a queer interpretation is being applied. "Not only do I look for the same-sex narratives in the Torah, but also the alternatives to normative sexuality, such as transsexuality, polyamory, bisexuality, interracial and interreligious relationships," explains Wolfman.

"For Jews, sex is good, and the body is good. If we are made in God's image, then how can we be ashamed of our bodies?" says Wolfman, about the potentially controversial nature of his photos. "It is pointless to be intimidated by what Orthodox Jews (or any religious fundamentalist) would say about my nudes, since, technically, one isn't supposed to depict any creature created by God. Once I depict people, what difference does it make what they are wearing? Besides, religious fundamentalists don't go to art galleries."

"I like the way light reflects off muscles, and how it gets absorbed in mats of body hair," says Wolfman of his erotic fascinations. "What I find most interesting is how people's faces and their body language change once they are naked. I get a more honest expression from my models, and the rawness of that honesty is what most appeals to me about photographing people nude."

"I'm on gay cruising sites every morning," says Wolfman. "The advantage of the sites I use is that men show photos of themselves nude, so I can determine if they will be suitable. For the same reason, the other main place I find models is at the gym, where locker rooms and showers become audition venues.

"There's always a lot of muscular older men with long white beards in biblical tales, so if anyone reading this looks like an Old Testament prophet, contact me," adds Wolfman.

With this year's controversy around Pride Toronto, based on issues of censorship and religious tensions, Wolfman seems the perfect candidate to weigh in on the debate.

"When I started going to Pride events in the '70s, it was about queers standing up against homophobia. Lately, the Pride events are about queers attacking each other," says Wolfman. "Imagine all those homophobes we used to protest against sitting back and smiling. They don't need to bash us because we're too busy doing it to ourselves. That isn't something to be proud about."

"One of the things I like about Judaism is that it dissects issues and makes truth relative. Take the old cliché about asking two Jews one question and getting three answers, for example," continues Wolfman. "I find it sad that a community that speaks of the fluidity of genders and sexualities, hybrid natures and challenging dichotomies, should be so polemic about the issues around Pride."

"Midrash is about interpretation and, from studying it, I've learned that things are rarely right or wrong, and that issues require study, not emotional reactions," says Wolfman. "I don't see things as black and white. Except some photos."


Midrash's opening reception is Fri, July 2 from 6–9pm at Queen Gallery, 382 Queen St E. The show runs until Tues, July 13. Info: queengallery.ca, wolfmanstudio.ca

Matt Thomas is a fab associate editor who loves religious dialogue that occurs in the nude.