Warning
: A non-numeric value encountered in
/home1/mahrokh/public_html/wp-content/plugins/lightbox-gallery/lightbox-gallery.php
on line
570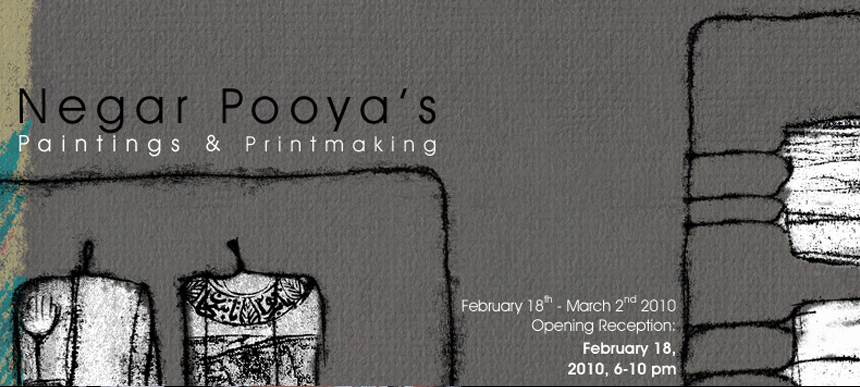 Facebook Event
February  18th-March 2nd, 2010
Tuesday to Friday 11am–6pm
Saturday 1-5 pm

Opening reception:
Thursday February 18th, 2010, 6-10 pm
I am an expressive painter inspired by different aspects of life around me, whether I live in my native land, Iran, or now in the most multicultural city of Canada, Toronto. Wherever I live, painting allows me to express my thoughts about what's happening around me and in the world. It allows me to create a "sanctum" with no border.
I move easily between painting and printmaking; each media gives me a new way of describing the world. Printmaking has always been a special medium for me. Not only do I thoroughly enjoy the process of creating a print but also the way it gives me the texture that I want. Personally I prefer using techniques that result in textured surfaces and shaky thin lines which I achieve by transferring a monoprint drawing onto a silk screen.
The images I create through printmaking are sometimes composed of numerous layers generated from photography, drawing and monoprint. I am fascinated by experiencing surprising results that sometimes happens during the printmaking process. Most of my prints are unique, with no extra edition.
Creating these paintings is a self-discovering process. Everything that influences me and every defining moment of life around me contributes to this unique process which I enjoy experiencing over and over again.

Tags: 2010